Helpful Tips about Eavestroughing in Durham Region
At 4 Seasons Eavestrough we believe that an informed customer is better able to make good decisions about their eavestroughing and leaf guard needs. Take a look at the information and tips on this page to learn more about the products we offer and the benefits they provide. Have questions? Contact us to learn more.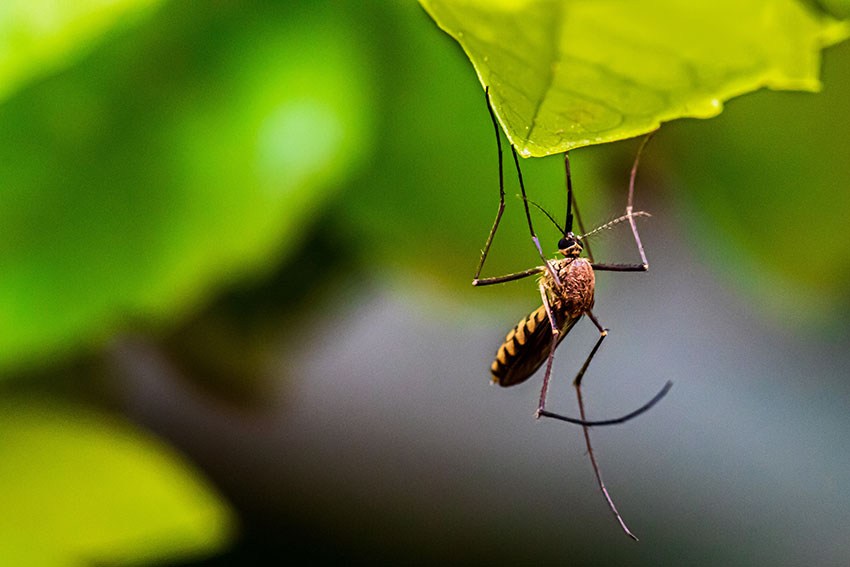 Did You Know?
There are 74 different species of mosquitoes in Canada, of which 64 varieties bite humans and domestic animals.
Mosquitoes lay their eggs in moist environments, and if your eavestroughs are retaining stagnant water because they are being blocked by leaves, you risk the possibility of being constantly bombarded by these biting insects. There is no doubt that your eavestroughs affect your comfort and health.
Things to Ask When Choosing an Eavestroughing Installation Company
1. Is the company fully insured and in good standing with WSIB?
Ensuring that the company you hire to install or replace your eavestroughing system is registered with the Work Safety & Insurance Board (WSIB) and is fully insured so that you are protected from liability while workers are on your property.
2. Does the company specialize in eavestrough systems, or is it just a sideline?
The installation and replacement of eavestroughing systems requires specialized knowledge and skills. Make sure the company you choose has the experience and training to do the job right.
3. Does the company have its own dedicated installers, or does it use subcontractors?
If the company you hire and trust to install or replace your eavestroughing subsequently hires someone else to perform the work you have no control over the quality of the materials used or the character and skill of the person who performs the work, which means you might not receive the high quality installation you contracted for. Ask the estimator whether or not the company uses on-staff installation technicians or subcontractors.
4. Does the company offer a warranty on workmanship?
Most companies offer a manufacturer's warranty on the products they use for your project, but make sure that the company you choose also provides a strong workmanship warranty. It lets you know that the company is professional, and confident in its knowledge and skill.
5. How long has the company been in business?
Has the company been in business long enough to have established a track record? This point may seem somewhat unfair because every business has to start somewhere, but for your own protection you should probably avoid any company that has been in business for just a short time. You want to make sure that they are still around if you experience problems later. Try to find a company that has been operating for at least 5 years.
6. Does the company provide access to customer references, reviews or testimonials?
Any reputable eavestroughing company should be able to provide you with a list of references from past customers upon request. At the very least the list should contain names and phone numbers; photos from past projects would also be helpful. If the company you are considering cannot or will not provide this information you should take that as a warning that they should be avoided.
7. Is the company willing to provide a written estimate, work acceptance forms and invoices?
If the company is not willing or able to provide these important documents, do not hire them. Any ethical company should be able to provide professionally printed forms containing this information.
8. Does the company use quality materials from reputable manufacturers?
Be sure that the company you choose uses quality eavestroughing materials to complete your project. Some contractors use thin-gauge eavestroughing and downspouts in an effort to lower costs, but this is not really cost efficient because the system will likely fail much sooner than a system constructed of time-tested quality materials. Go ahead and ask the estimator what gauge of material they use; it will let him know that you are aware of this practice used by inferior contractors.
9. Does the company take measures to protect the health and safety of their employees and the public?
Anytime workmen come onto your property there is the possibility of accident or injury. Make sure the company you choose is fully insured and has established safety practices in place to prevent injury while they are on your property.
Why is It Important to Use a Level when Installing Eavestroughing or Gutters?
No eavestroughing system will function properly unless it is level. The proper slope cannot be determined by eye. At 4 Seasons Eavestrough we always use a level to complete every installation and replacement project. No exceptions.
Some unscrupulous eavestrough installation companies do not use a level and this causes problems for the homeowner down the road, such as overflows and standing water in the system that can freeze in the winter.
You can rely on 4 Seasons Eavestrough to complete your installation properly and with the use of a level. We never subcontract and our workmanship is fully warranted.
Frequently Asked Questions
Do wet leaves stick to Alu-Rex Products?
Only temporarily. Alu-Rex products boast a smooth, perforated surface. Just as they may temporarily stick to the hood of your car, leaves and debris that land on the surface of Alu-Rex products dry quickly in the sun. And unlike your car hood, the surface beneath the wet leaves on your gutter is perforated so they dry faster! A little wind is all it takes to sweep away dry leaves and debris:
A 10 km/h wind effectively removes wet leaves and about 100 pine needles per linear foot.
A 37 km/h wind can remove about an inch (2.5 cm) of pine needles per linear foot.
How do Alu-Rex products stand up to snow?
Alu-Rex products significantly reduce the weight of snow on your gutters. Since the snow can't get into the gutters, the weight they have to carry is limited to that which accumulates on top of Alu-Rex products. What's more, the gutters remain fully functional, so water from melting snow and ice can drain away freely. Without Alu-Rex products, the gutters—already clogged with leaves and debris—fill up with snow and ice, which keeps them from doing their job draining water away in spring. Plus they have to bear more weight.
Does T-Rex® or the Gutter Glean® System help to form ice?
Not at all! Water continuously drains into the downspout because nothing—neither debris nor snow—will block it from draining. With Alu-Rex products and the Alu-Perf technology, your gutters work all year round. Alu-Rex products do not cause ice formation. If ice forms on the edge of the roof, we recommend that you check if the attic space is adequately ventilated and insulated.
Can installation of Alu-Rex products lead to leaks in my roof?
No. Alu-Rex products do not cause any leaks. No shingles are raised and no nails or screws go into the roof during installation. Beware of look-alike products that require you to lift the shingles. These products can lead to leaks. In time, the asphalt shingles dry out and become brittle. It's never a good idea to lift shingles when installing gutter protections systems, whether they're nailed in, screwed on, or simply set in place. Also, the manufacturer's warranty on asphalt shingles is void if the shingles are lifted, peeled away, or modified.
What is the maximum weight my gutter can support when fastened with the T-Rex® system?
The maximum weight your gutter can bear with T-Rex is 250 lb. per linear foot (373 kg per linear metre). That's 50% stronger than with spikes or hangers.
What is the point of using T-Rex® if there are no trees near my home?
It may seem unnecessary to use the T-Rex continuous gutter fastening system if there are no trees around your home. But T-Rex's main strengths are its robustness, strength, durability, and quality. With T-Rex, your gutters will be stronger and more durable than any others. New trees may grow… and your gutters will still be in perfect condition after 25, 30, and even 40 years! People who buy the T-Rex system want what's best for their gutters, just as they do for their doors, windows and all other components of their home.
Why is the T-Rex® continuous fastening system better than spikes, screws and hangers?
Spikes, screws, and hangers provide a certain degree of strength, but only over a few inches to either side of them. The spaces between the spikes/screws/hangers are weak. With T-Rex, your gutter is equally solid across its entire length. There are no weak spots.
What's the difference between Alu-Rex's Gutter Clean System® and T-Rex® products?
The Gutter Clean System® is a gutter protection system that prevents leaves and debris from getting in and clogging the existing gutters. This product is simply placed on your home's existing gutters. T-Rex® is a continuous fastening system for new gutters that very securely fastens gutters to your home, making them 50% stronger than traditional systems. Both products use the same Alu-Perf™ technology, which prevents leaves and debris from building up in your gutters.
Do Alu-Rex products require upkeep?
The Gutter Clean System® and T-Rex® are among the most efficient gutter protection systems on the market today. In the vast majority of cases, a light breeze is enough to sweep away normal debris. In areas under the roof, or under shallow overhangs on sloped roofs debris may build up where the wind cannot reach it. We recommend that you occasionally clean out these areas to keep your Alu-Rex products in good working order.
How does water get into the gutter?
There aren't enough holes and they're too small. Our exclusive Alu-Perf gutter cover technology is the result of extensive research and development. The product has 624 holes every 24 inches (61 cm). This allows water to drain at the same rate as a 2 in. x 3 in. (5 cm x 7.5 cm) downspout. Rigorous testing by an independent certification agency has proven that Alu-Rex gutter cover can drain over 29.7" (755 mm) of water an hour over a length of 20' (6 m). And with 50,000,000 feet (15,240,000 meters) of Alu-Rex products installed around the world, the figures speak for themselves… Note: The highest amount of rainfall ever recorded worldwide was 12". (305 mm) of water in one hour (Holt, MO, 1947). In comparison, the 1996 Saguenay Flood in Quebec was triggered by 11" (275 mm) of rain in three days. Alu-Rex products would have been able to handle all that rain in just one hour—and three times more! Overflow is usually caused by the gutters themselves (not wide enough or deep enough for the roof surface) or the downspouts (insufficient number for the roof's surface). It is important to make sure there are enough downspouts to avoid this problem. For this purpose, you need to keep in mind that one downspout is enough to drain the equivalent of a 600 sq. ft. (56 m2) roof. In short, if you don't have backflow problems with your current gutters in heavy rainfalls, the Gutter Clean System and T-Rex won't create them.
Can Alu-Rex products withstand heavy water flow?
Even if all the perforations get covered—which never happens because the wind sweeps away leaves and debris—Alu-Rex products can drain up to three times the quantity of water ever recorded in the heaviest rainstorm. How? Because wet leaves remain permeable. Water still gets between the leaves—and even through them—to drain into the gutter. The water always finds its way into the holes. What's more, the exclusive design of Alu-Rex products features an approximately 0.4" (1 cm) deep basin. Testing in the lab and in the field has shown this to be the right depth to catch more water without stopping the wind from doing its job of sweeping away leaves, pine needles, and debris from the surface. Beware of look-alike products that are completely flat. Water can overflow when products are not equipped with a basin.
Aren't metal grills or plastic mesh enough for my home?
It's tempting to believe that a simple plastic mesh that sells for $4 per 20' (6.1 metre) roll can do the job, but this just isn't the case. The openings in these products are much too large. Debris can get inside and leaves get stuck, which can clog the gutters and turn into fertile soil for plants to grow in. Moreover, these products are not rigid so they bend under snow and ice. In short, these products will still force you to periodically climb a ladder to clear out your gutters.
Your Eavestrough Need Some Work?
Let's Get It Done Right The First Time!